Yes readers you read that title correctly, "Versace" and H&M"  are in fact in the same sentence. It's truly a cause for celebration!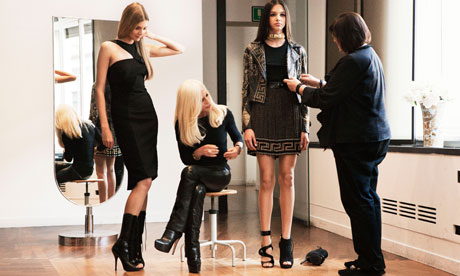 Donatella with Versace for H&M womenswear designs
H&M, known for bringing high designers like Roberto Cavalli, Karl Lagerfeld, Stella McCartney, Matthew Williamson, Jimmy Choo and Lanvin to create affordable apparel and accessories, has turned to Donatella Versace to bring the same upscale vibe of her Italy-based label to create a luxe line for men and women set to debut in stores and online on November 17th.
Sneak preview of Versace for H&M
Summer may have begun but H&M have ultimately created a buzz for Autumn! Versace for H&M will include sleek menswear "tuxedo" designs, sophisticated dresses and dazzling accessories for women. Donatella who's equally excited about this news said to Vogue, " The collection will be quintessential Versace, perfect for H&M and Versace fans everywhere." H&M's creative adviser Margareta van den Bosch echoed the same sentiments in a press release, "Versace is one of the most important brands of recent times, and their collection for H&M will be glamorous and flamboyant – everything Versace stands for. Donatella Versace is sharing with us iconic designs from the archives. This is such a celebratory collaboration and it is perfect for the party season."
Donatella Versace with a sneak preview of Versace for H&M
Not only has  Donatella designed a collection for H&M this November but also a pre-Spring 2012 line set for release in January. To sustain the frenzy that her H&M collaboration will ultimately create in the fashion community, Donatella wore a black leather gold studded sleeveless dress from the line at the finale of her menswear Spring/Summer 2012 runway presentation last night in Milan!
Donatella in Versace for H&M at her Menswear 2012 runway show
This exciting fashion news may be bigger than when Lanvin hit H&M and was sold out on the same day as its official launch. Be sure to be first in line at your local H&M (only 300 stores will offer Versace for H&M) to grab a piece of affordable Versace designs this November. Mark your calendars to see the piggy bank breaking style that Donatella will create as the latest retailer/high-end designer collaboration at H&M.
Illustration of the upcoming Versace for H&M