Impossibly gorgeous, ever-youthful movie star, Halle Berry, has had an amazing career – with an Oscar (in 2002) to boot. However, the star is the first to admit that she has had her share of terrible, public relationships. In 2004, she famously stated on the Oprah Winfrey Show with absolute conviction that she would never get married again! However, the superstar and proud mother of Nahla, is now engaged to her current boyfriend, French actor Olivier Martinez.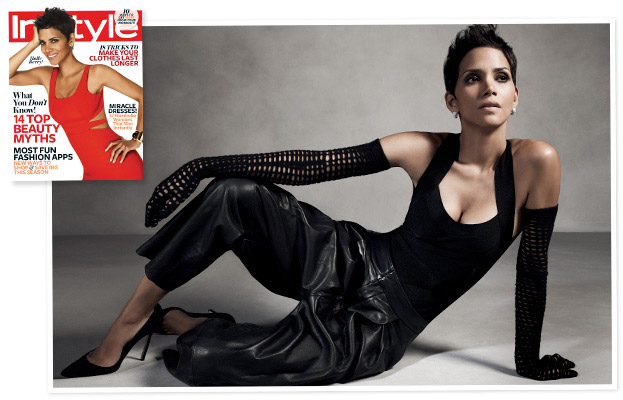 As InStyle's November cover girl, Berry talks with fondness about love, her fiance, and learning to embrace herself. Here's an excerpt from InStyle. [Read the full excerpt at InStyle.]
"I'm a hopeless romantic, and I won't stop till I get it right!" Now she knows better than ever what she wants from her partner. "He's silly, a clown, and very much the life of the party, which is good for someone like me," she said. "Danny Downer…been there, done that. Now I like Louie Lightfoot!" And as for all of the challenges ahead, she's ready for them. "Don't stress about your age or fight it," she advised. "Appreciate the young women who look like you once did, but don't strive to be like them. You're moving into a new phase of your life—embrace it. That's what I hope to do."
Also, in her interview with the New York Times T Magazine, the star actress talks about choosing the wrong men, as well as her self-esteem. Here is an excerpt below. [Read the full article here.]
"I have to ask the question: "Why have you made such bad choices in men?"

"My picker's broken," she says with a laugh. "God just wanted to mix up my life. Maybe he was thinking, 'This girl can't get everything! I'm going to give her a broken picker.' " She says it's fixed now.

Berry's looks are no doubt a great gift. Even now, more than halfway through her 40s, she retains perfect skin, a long, elegant neck and a body that is both slim and womanly. (She says a diagnosis of Type-1 diabetes, at age 19, made healthy eating and exercise a necessity.) But, she says, "just because they see my face doesn't mean they see me. A person's self-esteem has nothing to do with how she looks.

"If it's true that I'm beautiful," she adds, "I'm proof of that. Self-esteem comes from who you have in your life. How you were raised. What you struggled with as a child."
Can you relate to Halle's struggle? What do you consider most important when you're trying to "pick" a man?
{Image Credits: Top – InStyle Magazine; Others – New York Times T Magazine}