Valentine's Day is about the celebration of love. However, the true test of love is the ability to be so committed to someone else that the love thrives and even grows during times of stress and difficulty. Below are ten celebrities whose love has helped them overcome obstacles:
1. Holly Robinson Peete and Rodney Peete: Actress and media personality, Holly, and husband, Rodney, who is a retired NFL player have been married for a long time – 17 years in June, to be exact. Along with their 4 beautiful children, Rodney and Holly have a gorgeous family. Tragedy struck when their son (one of twins), R.J. was diagnosed with autism at age 3. Instead of succumbing to the pressures of their son's disorder and allowing the difficulties to push them apart, the two have come together and become so much closer! They created the HollyRod Foundation to provide hope for families dealing with autism and Parkinson's Disease (Rodney's father has Parkinson's).
2. Tamia and Grant Hill: Married since July 1999, wonderful singer Tamia and star basketball player Grant Hill are a beautiful couple who keep a low profile and truly seem to prioritize support for each other and their two children. Tamia was diagnosed with Multiple Sclerosis in 2003. MS is a debilitating disease that affects the central nervous system. Grant has stood beside his wife through it all. Likewise, Tamia has stayed supportive of Grant through several injuries that allegedly almost caused him his NBA career. Thankfully, his career is still going strong; he is currently the 2nd oldest NBA player.
3. Boris Kodjoe and Nicole Ari Parker: Hot couple, Boris and Nicole have been married since 2005. Anyone looking at this picture-perfect couple would swear that their life is paradise. However, Boris and Nicole deal with reality everyday as they continually adapt to their daughter, Sophie's spina bifida. Spina bifida is a disorder caused by the incomplete formation of the vertebrae overlying the spinal cord. The two have banded together to create their organization, Sophie's Voice, to raise funds and awareness about the disorder. In spite of their challenges, Boris and Nicole have still managed to maintain their romance and relationship. You can often find them sweetly flirting with each other on Twitter. #Winning
4. Angela Bassett and Courtney B. Vance: Angela and Courtney have been married since 1997. These two share more than a love of and prowess at acting and theater; they also have their youthful looks in common. It is ridiculous how similar they look to the two people who got married 15 years ago. This often low-key couple publicly shared their seven-year struggle with infertility and their final decision to use a surrogate for the birth of their biological twins. Fertility issues have been known to create a rift in many marriages – but not this one! They stuck together and loved each other through it all; now, they have beautiful twins, Slater Josiah and Bronwyn Golden to show for it. I'd be tempted to say they got their groove back, but it never left!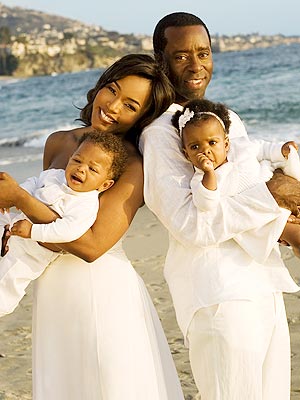 5. Cookie and Magic Johnson: When Earvin "Magic" Johnson stunned the world in November 1991 with his announcement about being HIV-positive. Magic was one of the most prolific basketball players ever and his announcement was stunning! Words cannot describe how much of a battle this was, especially at a time when there was very little information about HIV & AIDS. To make matters worse, Magic had only been married to his wife, Earlitha "Cookie" Johnson for one month when he found out about his HIV status and, worst of all, she was pregnant! Now if that isn't a test, I don't know what is! Thankfully, neither Cookie nor their son was infected with the virus. Now almost 21 years since then, it is clear that Cookie Johnson stood by her man resolutely because she loved and supported him. Talk about Magic!
6. Mary J. Blige and Kendu Isaacs: The Queen of HipHop Soul is not afraid to say that she has fought many, many demons in her lifetime. Every hint of that struggle is obvious in every line of her music and in every note that she sings. The former queen of angst is now the posterchild for joy, transformation and letting go of all that drama. Mary credits her transformation and new, amazing journey to her relationship with husband of 11 years and manager, Kendu Isaacs. She states that Kendu opened her up to a whole new world and helped her let go of the negativity in her life. It's great to see them doing "just fine."
7. Tony and Lauren Dungy: Tony Dungy is a football sports analyst, but he was a record-breaking NFL coach. He was the first African-American head coach to win the Super Bowl with his team, the Indianapolis Colts, in 2007. He was also broke records by being the first head coach to lead his team to the play offs for 10 consecutive years. In spite of his many accomplishments, Tony is most proud of his evangelical Christian faith and has written many bestsellers on faith, family, sports and leadership and has been a part of many family/faith-oriented organizations. He founded All Pro Dad to teach men how to be better fathers. Tony has been married to his wife, Lauren, for a staggering 29 years!!! (It will be 30 years in June.) Lauren is a former school teacher and a volunteer for Family First's mothering initiative, iMom, as well as a co-author with her husband and VP of their foundation, Dungy Family Foundation. The Dungys were dealt the most horrific blow imaginable when their 18 year old son, James, inexplicably committed suicide in 2005. Such grief too often rips a family apart, but the Dungys have come through their horrific struggle successfully. They continue to be examples to their 6 children and to the many who look up to them. God bless your "Quiet Strength."
8. Todd "LL Cool J" Smith and Simone Smith: There's no introduction necessary for hip hop icon, actor, author and entrepreneur Todd "LL Cool J" Smith; so, I won't spend time introducing him. He has been married to his beautiful wife and high school sweetheart, Simone, since 1995 and they have 4 children. In 2004, Simone was diagnosed with a bone cancer – and thus began the battle to beat. To everyone's relief, Simone has beat her cancer and is hard at work with her already ubiquitous jewelry line, Simone I. Smith. Simone and LL continue to support charities battling cancer and proceeds from a portion of sales from select Simone Smith pieces goes to charities battling cancer.
9. Charlie and Mahin Wilson: Charles "Charlie" Wilson is an R&B living legend. He is an extremely talented singer-songwriter-producer who first came into the spotlight in the 1980s as part of the Gap Band and  continues to maintain a successful solo career. However, Charlie had to literally fight for his life as he battled many years of alcohol and drug addiction which led to tremendous financial loss and homelessness. He made the most important decision of his life by choosing to check into rehab in 1994. While there, he met the woman who would change his life forever. Mahin was a social worker at his rehab center. He leaned on her through his journey to sobriety and the two were married in 1995. With her love and support, Charlie has remained sober for 17 years. The couple had another scare in 2008 when Charlie was diagnosed with prostrate cancer. Fortunately, the cancer was detected on time and he is now cancer-free. Charlie is now the official spokesperson for the Prostrate Cancer Foundation.
10. Jennifer Hudson and David Otunga: Jennifer Hudson's weight loss journey has had many tongues a-wagging in recent months. Yet, before the Oscar winner and powerhouse singer lost weight, another extremely sad subject was on everyone's lips: the brutal murder of her mother, brother and nephew in 2008. Jennifer has credited her visit to Florida to see fiance and father of her child, Otunga, with her absence from the home where her family members were killed. To stand with someone you love through one grief is difficult enough; but to stand with them through the death of 3 people is extremely difficult. When those deaths took place at the same time and by violence, it is nearly impossible to fathom. Jennifer and David have been together through what is undoubtedly one of the worst moments in anyone's life. Jennifer has stated that the couple will get married this year.
What obstacles have you overcome with your love? Do share!
Happy Valentine's Day!!!
{Image Credits: Women on the Fence; Sports Illustrated; Mrs GrapeVine; People; Zimbio; Team Yee; HubPages; Zimbio; Access Atlanta; Life}