At the beginning of this year, we predicted that this would be the year of even more celebrity engagements and marriages. We were right! The engagements just keep on coming, and we're only halfway through the year.
NY Knicks Power Forward and self-proclaimed renaissance man, Amar'e Stoudemire, is engaged!!! He proposed to longtime girlfriend and mother of his 3 children, Alexis Welch, on June 2 at 11 PM. Stoudemire knew that there would be no more perfect place to ask Welch to spend the rest of her life with him as his wife than in the city of romance, Paris.
Stoudemire proposed amidst a gorgeous backdrop of Parisian historical landmarks, like The Eiffel Tower and L'Arc de Triomphe, this past Saturday. The proposal took place at the couple's penthouse suite, the over 2500 sq. ft. Belle Etoile Royal Suite, in Le Meurice Hotel. The Knicks star played it cool throughout the day, as he toured Paris with his fiancee during the day before the surprise dinner that would lead to his proposal.
According to People, Stoudemire stated, "I have been planning my proposal for a while and overlooking the entire Paris skyline seemed like a perfect place.  I am so happy she said 'yes,' and now we can continue to build our life together as husband and wife." The happy groom-to-be took to Twitter to share his joy, stating, "Paris, the food, & lights were very romantic. When she said yes, it was surreal. I'm still floating. #engaged #blessed," after which he shared a picture of the special moment.
Amar'e proposed with a specially designed 3.5 carat radiant-cut diamond ring set in 18-karat white gold, valued at over $1 million dollars. It was designed by Shayan Afshar, who told People, "It was important for Amar'e that the ring was classic but modern at the same time. He wanted to ensure that the setting complemented the stone rather than take away from it. Alexis was the inspiration. He was looking for a minimalistic setting and he wanted her to love it. We played with a few options."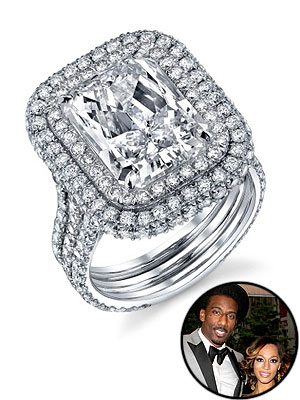 The couple, who have known each other since the beginning of Stoudemire's career in 2002, plan to wed in 2013.
Congratulations to the happy couple!!! Hopefully, this lightens Knicks star's feelings of loss resulting from his brother's death in February. Best wishes to the couple :).
{Image Credit: Amar'e Stoudemire; Ring Image: People}